| | | |
| --- | --- | --- |
| | TRichView in Applications | |
---

Product Page: (discontinued)
Developer: Vitaly Kornienko
License: Shareware
Interface: English, Russian, Byelorussian.
---
Boogy Chat is not just a chat for local networks. This chat was and is still being designed with only one objective, to enjoy the talk.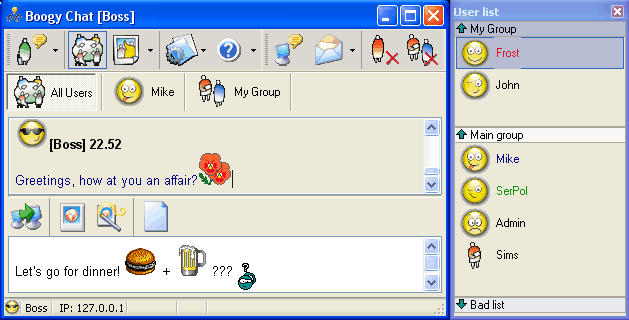 Main Options:
Common chat.
Private talk.
Talk to several users simultaneously (group talk).
A convenient list of users, adjustable to your preferences.
Possibility to ignore both individual users and groups.
Messages may contain not only graphical images (smilies), but also animation.
Auto-reply (adjustable to your preferences).
Rich opportunities for adjustment of your own profile (additional information about the user) and viewing profiles of other users in the chat.
Possibility to minimize the chat. You will be informed about incoming messages.
Audio notices of events.
Operation of the chat without a special program on the server.
A convenient and simple to use interface; detailed description of the program.
Multilingual support.
Boogy Chat - communicate with pleasure!
Quote from the author: TRichView component is a base of BoogyChat. While all other thirdparty components in this application are replaceable, TRichView is a special one. Using this component, we are able to add images, emoticons and gif animation in messages. Because of TRichView, the chat becomes bright and fun. With TRichView, we can save chat history in different formats (not only text files, but also RTF with images), customize text colors, background, specific words, insert hyperlinks and more.
---
Disclaimer: This application is listed here because it uses our programming library. We are not the developers of the applications listed in this section of the web site (unless explicitly stated). Contact information of the developer of this application is at the beginning of this page. Please address all support or sales questions regarding this application to the developer.
We are trying to keep information in this section of our site up to date. But applications are evolving, and some information or graphics may be obsolete. Visit the application's site for the actual information.