| | | |
| --- | --- | --- |
| | TRichView in Applications | |
---

Product Page: messenger.softros.com
Developer: Softros Systems, Inc.
License: Shareware
Interface: Multilingual
Softros LAN Messenger is an easy-to-use LAN messaging application for safe, secure and effective intra-office communication.
---
When the local network of the office starts to grow, the management faces the problem of choosing various communication methods for the employees. This question is highly important when working places are located in different rooms or even separate buildings. Especially for such cases, Softros Company developed a special solution – chat for the local network of the office.
There's a widespread opinion that the chat is useless in the local network because employees are able to use email, aren't they? It's impossible to choose the only one universal solution, but we want to highlight the following advantages of Softros LAN messenger for internal communication of the employees:
There's no need to use the internet connection in order to chat in the LAN, thus it's possible to save precious working time and avoid useless chatting with the people from the outside of the office.
Softros solution doesn't require the installation of additional or specific mail servers because messages are delivered using 'client-to-client' principle.
The LAN messenger can be installed by each and every user without the need of having specific knowledge.
The problem of information leakage from the intranet is virtually impossible, while all other mailing solutions and particularly public instant messengers are constantly under hacker attacks and strict control of the government bodies.
These are the main advantages of our application. However, we want to underling a set of convenient tools and features of the application. The chat allows messaging to a user or to a group of specific users. The employees are able to send any amount of files of any size, while the rights of a specific user can be adjusted by the network administrator. We also offer 'Desktop remote assistance' feature that can be used by any user in order to provide remote access to the computer and get help during the process of installation or setting of software. In other words, Softros LAN messenger is one of the most convenient and useful applications in the market and it will definitely become a great aid and helper for your business.
---
The screenshots below show how TRichView is used in the application.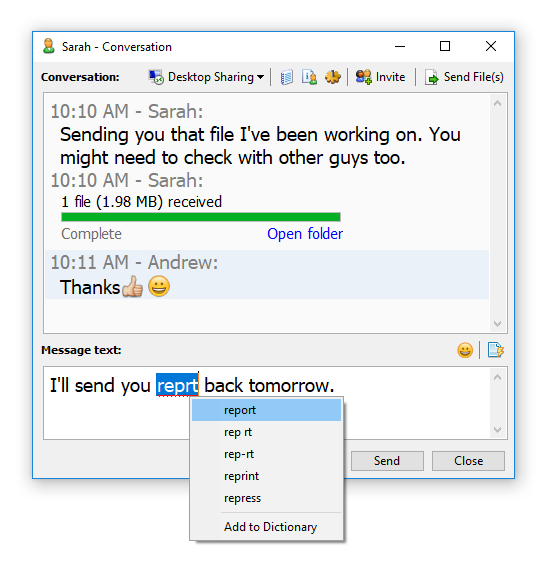 Conversation in Softros LAN Messenger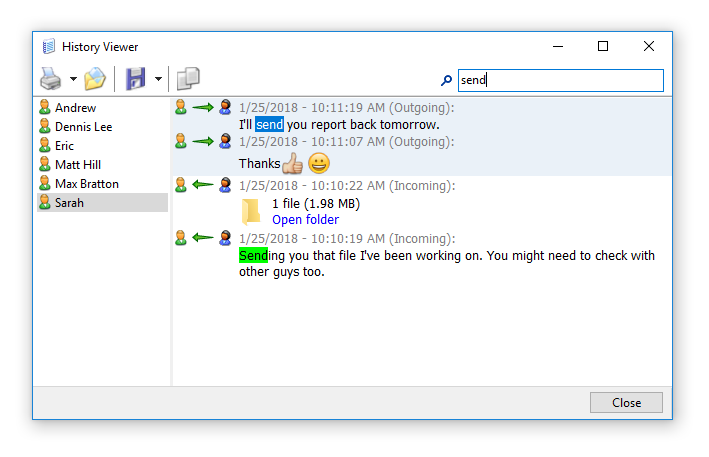 History Viewer in Softros LAN Messenger
---
Disclaimer: This application is listed here because it uses our programming library. We are not the developers of the applications listed in this section of the web site (unless explicitly stated). Contact information of the developer of this application is at the beginning of this page. Please address all support or sales questions regarding this application to the developer.
We are trying to keep information in this section of our site up to date. But applications are evolving, and some information or graphics may be obsolete. Visit the application's site for the actual information.